SEARCH FOR THOUSAND OAKS HOMES
About Thousand Oaks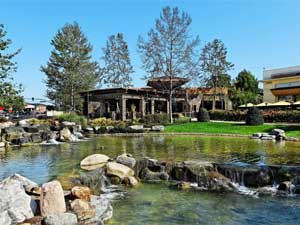 The city of Thousand Oaks, is located in beautiful Ventura County, 12 miles inland from the Pacific Ocean, is nestled against the Santa Monica Mountains and surrounded by more than 14,800 acres of natural publically owned open space of which contains 75 miles of trails for hiking,biking or a leisurely stroll.
Thousand Oaks is a family community and is home to excellent schools,outstanding parks,the largest auto mall in the nation , and the Thousand Oaks Civic Arts Plaza.
Thousand Oaks is one of the most sought after places in California to work and Play!
Thousand Oaks is a city in southeastern Ventura County, California, part of the Greater Los Angeles Area in the United States. Thousand Oaks is located approximately 35 miles from Downtown Los Angeles and is also less than 15 miles from the Los Angeles city neighborhood of Woodland Hills. It was named after the many oak trees that graced the area, and the city seal is adorned with an oak.
The city forms the populated core of the Conejo Valley, located in the northwestern part of the Los Angeles area. It includes Thousand Oaks proper, Newbury Park, Westlake Village, Agoura Hills, and Oak Park. The Los Angeles County/Ventura County line crosses at the western city limits of Westlake Village. The population was estimated to be 128,374 in 2012, up from 126,683 at the 2010 census.
Thousand Oaks and Newbury Park were part of a master planned city, created by the Janss Investment Company in the mid-1950s. It included about 1,000 custom home lots, 2,000 single-family residences, a regional shopping center, 200-acre (0.81 km2) industrial park and several neighborhood shopping centers. The median home price is around $560,000 It is located in the northwestern part of the Greater Los Angeles Area.
History
The area was once occupied by the Chumash people, and 2000-year-old cave drawings may still be seen at the Chumash Indian Museum, 3290 Lang Ranch Parkway, in the Lang Ranch section of the city. The Chumash village was known as Sap'wi, which means "House of the Deer."
The area's recorded history dates to 1542 when Spanish explorer Juan Rodriguez Cabrillo landed at Point Mugu and claimed the land for Spain. It eventually became part of the 48,671 acres (196.96 km2) Rancho El Conejo land grant by the Spanish government, thus becoming the basis of the name Conejo Valley (conejo means "rabbit" in Spanish, and there are many in the area). It served as grazing land for vaqueros for the next fifty years.
In the late 19th century it was on the stagecoach route between Los Angeles and Santa Barbara. The Stagecoach Inn was built in 1876, and is now a California Historical Landmark and a popular museum.
The Janss family, developers of Southern California subdivisions, purchased 10,000 acres (40 km2) in the early 20th century. They eventually created plans for a "total community" and the name remains prominently featured in the city.
Jungleland USA was one of Southern California's first theme parks. Wild animal shows entertained thousands in the 1940s and 1950s. Many TV and movie productions used the park's trained animals and were filmed there, including Birth of a Nation, Tarzan, and The Adventures of Robin Hood. Jungleland closed down in May 1968, in part due to competition from other amusement parks such as Knott's Berry Farm and Disneyland. The Thousand Oaks Civic Arts Center today stands on the site of the park.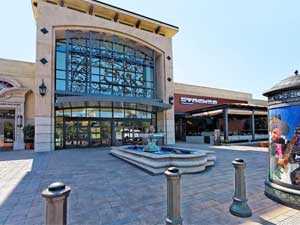 The City of Thousand Oaks was incorporated on October 7, 1964, the first incorporated city in the Conejo Valley. Some sources mistakenly state that Thousand Oaks was incorporated on September 29, 1964, which was the date that voters approved the incorporation and selected the name. However, the incorporation only became official once the certificates of election were filed with the California Secretary of State, and then the record of affidavit was filed with the Ventura County Clerk. It is known for being entirely a planned community, as the city is one of few that have actually stayed with the master plan. As a result, the city has fewer of the problems of other cities of similar size, such as traffic congestion and pollution, although increased development in Moorpark and Simi Valley in the late 1990s and early 2000s caused the Moorpark Freeway (Highway 23) to become heavily congested during both morning and afternoon rush hours. A major widening project began in 2008 to alleviate most of this congestion. Because of its desirable environment and location, property values have appreciated more than 250% in less than ten years, primarily during the mid-90s to early 2000s.
Newbury Park is located in the westernmost part of the city within the 91320 zip code. This area was once controlled by Ventura County as an unincorporated area, but was later annexed by the city of Thousand Oaks through votes by Newbury Park communities. The only communities that chose to remain county areas are Casa Conejo, which was Newbury Park's first planned community built from 1960 to about 1965, and Lynn Ranch, an old neighborhood in the western portion of the city. Thousand Oaks also annexed the parts of neighboring Westlake Village (then simply known as "Westlake") that were located in Ventura County, in two portions in 1968 and 1972.
Geography
Thousand Oaks is located at 34°11'22?N 118°52'30?W? / ?34.18944°N 118.87500°W (34.189489, -118.875053). It is situated in the Conejo Valley.
According to the United States Census Bureau, the city has a total area of 55.2 square miles (143 km2). 55.0 square miles (142 km2) of it is land and 0.15 square miles (0.39 km2) of it (0.27%) is water.
Although Thousand Oaks has a downtown area (focused around the Janss Marketplace mall, The Oaks mall, and W. Thousand Oaks Blvd.), a large portion of the city's inhabitants live in suburban communities a distance from the commercial centers of the city. The large housing districts near Lynn Road to the north and west are an example of this sprawl, despite attempts by Ventura County planners to reduce it.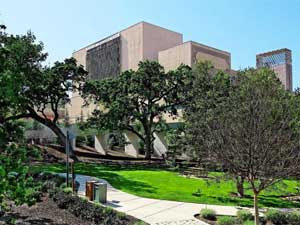 Climate
The region has a mild, year-round Mediterranean Climate or Dry-Summer Subtropical zone climate, with warm, sunny, dry summers and cool, rainy winters. Vegetation is typical of Mediterranean environments, with chaparral and grasses on the hillsides and numerous western valley oaks. Its elevation ranges from about 500 to 900 feet (excluding the mountains and hills). The area has slightly cooler temperatures than the surrounding areas, as it receives cooler air from the ocean through various hill and mountain passes. On March 10 and 11, 2006, snow fell on the peak of Boney Mountain, the first snow to fall in the area in about 20 years. Snow also fell on Boney Peak on December 17 and 18, 2008.
Demographics
The 2010 United States Census reported that Thousand Oaks had a population of 126,683. The population density was 2,295.8 people per square mile (886.4/km²). The racial makeup of Thousand Oaks was 101,702 (80.3%) White, 1,674 (1.3%) African American, 497 (0.4%) Native American, 11,043 (8.7%) Asian, 146 (0.1%) Pacific Islander, 6,869 (5.4%) from other races, and 4,752 (3.8%) from two or more races. Hispanic or Latino of any race were 21,341 persons (16.8%).
The Census reported that 124,941 people (98.6% of the population) lived in households, 1,390 (1.1%) lived in non-institutionalized group quarters, and 352 (0.3%) were institutionalized.
There were 45,836 households, out of which 16,439 (35.9%) had children under the age of 18 living in them, 27,206 (59.4%) were opposite-sex married couples living together, 4,260 (9.3%) had a female householder with no husband present, 1,925 (4.2%) had a male householder with no wife present. There were 1,761 (3.8%) unmarried opposite-sex partnerships, and 284 (0.6%) same-sex married couples or partnerships. 9,728 households (21.2%) were made up of individuals and 4,459 (9.7%) had someone living alone who was 65 years of age or older. The average household size was 2.73. There were 33,391 families (72.8% of all households); the average family size was 3.15.
The population was spread out with 30,076 people (23.7%) under the age of 18, 10,226 people (8.1%) aged 18 to 24, 29,853 people (23.6%) aged 25 to 44, 37,964 people (30.0%) aged 45 to 64, and 18,564 people (14.7%) who were 65 years of age or older. The median age was 41.5 years. For every 100 females there were 95.8 males. For every 100 females age 18 and over, there were 93.3 males.
There were 47,497 housing units at an average density of 860.8 per square mile (332.3/km²), of which 33,501 (73.1%) were owner-occupied, and 12,335 (26.9%) were occupied by renters. The homeowner vacancy rate was 0.8%; the rental vacancy rate was 5.6%. 92,510 people (73.0% of the population) lived in owner-occupied housing units and 32,431 people (25.6%) lived in rental housing units.
2000
The median income for a household in the city was $101,120, and the median income for a family was $119,207. Males had a median income of $82,815 versus $50,604 for females. The per capita income for the city was $54,304. About 2.2% of families and 3.0% of the population were below the poverty line, including 3.2% of those under age 18 and 4.1% of those age 65 or over.
Government
Local government
Thousand Oaks is one of the few cities of over 100,000 that does not directly elect its mayor; rather the council members take turns rotating into the position.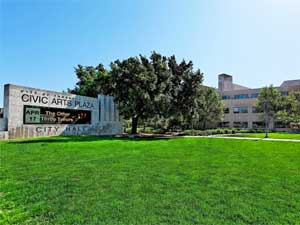 According to the city's most recent Comprehensive Annual Financial Report Fund Financial Statements, the city's various funds had $118.1 million in Revenues, $113.5 million in expenditures, $245.0 million in total assets, $63.4 million in total liabilities, and $214.2 million in investments:
Today the city boasts a historically "slow growth"-minded city council. Along with the ordinances protecting the numerous oak trees, the city's leaders and residents alike boast of the ring of protected land, free from development, that surrounds the city's borders and which may account for the accelerating land values in recent years. More than 15,000 acres (61 km2) have been preserved as "open space", containing more than 75 miles (121 km) of trails.
Economy
The city's economy is based on a small range of businesses, with biotechnology, electronics, automotive, aerospace, telecommunications, healthcare, and financing occupying most of Thousand Oaks' employment sector. Amgen, Teledyne Technologies, SAGE Publications, and Skyworks Solutions have corporate headquarters in the city, while Bank of America, Baxter International, General Dynamics Corporation, Verizon, Verizon Wireless, Volkswagen, Audi, General Motors, BMW, Silver Star Automotive Group, and Anthem Blue Cross manage regional offices. Thousand Oaks also has large employers Los Robles Hospital & Medical Center, Conejo Valley Unified School District, City of Thousand Oaks, Hyatt Hotels, and California Lutheran University headquartered in the city. The city was also the former home to the corporate offices of Wellpoint and GTE, which later became Verizon, which relocated in the last decade. J.D. Power and Associates is headquartered in Thousand Oaks. J.D. Power began moving its employees from its former headquarters in Agoura Hills, California, to its current headquarters in the Westlake section of Thousand Oaks in the weekend after April 11, 2002. The communities of Thousand Oaks, Westlake Village, and Agoura Hills are served by the Greater Conejo Valley Chamber of Commerce, one of the few in California to receive four-star accreditation from the United States Chamber of Commerce.
Education
Thousand Oaks is served by the Conejo Valley Unified School District. It includes numerous elementary schools, Colina Middle School, Redwood Middle School, Los Cerritos Middle School. The high schools of the area include Thousand Oaks High School, Newbury Park High School, and Westlake High School. Also part of the school district are Sycamore Canyon Middle School and Sequoia Middle School, located in Newbury Park. Oaks Christian High School, while located immediately outside of Ventura County, matriculates numerous students from the county. La Reina High School is a private Roman Catholic, all-girls junior/senior high school. California Lutheran University is located in Thousand Oaks.
The Thousand Oaks Library system is consistently ranked as one of the best public libraries in California. The library consists of the Grant R. Brimhall Library in Thousand Oaks and the Newbury Park Branch Library in Newbury Park. A 22,000-square-foot (2,000 m2) children's library was added to the existing 62,000-square-foot (5,800 m2) main building in June 2006. The children's library expansion resulted in an improved children's services area, a 3800-gallon, salt-water aquarium; quiet study rooms; a technology training room; a children's programming room; and additional seating and shelving capacity for both the children's services area and adult services area. Both the main library and Newbury Park Branch offer free wireless Internet access.
Youth and Professional Sports
Teenagers are a major focus of the community. AYSO soccer, Club Soccer such as Apex Soccer Club, Newbury Park Soccer Club and Conejo Valley United, Conejo Youth Basketball Association, also known as CYBA, Conejo Valley Thunder Wrestling, Pop Warner football, Little League baseball, CYFFA flag football, girls' softball, organized swim team leagues, ice hockey, and even organized lacrosse and field hockey involve hundreds and even thousands of participants and their parents year in and year out.
In August 1991, a team from Thousand Oaks Little League became the first Little League team in Ventura County to win a World Championship, winning the Championship game 20-3. In 1996, a Senior Division (ages 14–16) Thousand Oaks Little League team won a National Championship. Two years later in 1998, a Big League Division (ages 17–18) Conejo Valley Little League team won a World Championship, defeating a Venezuelan Team 10-9 and going 26-1 in tournament play. In 2006, Thousand Oaks won the World Championship in the Big League Division(ages 16–18) of Little League by defeating a team from Puerto Rico 10-0. The Thousand Oaks Big League team were also World Series runner-ups in 2003 and 2005. In 2007, they were United States runner-up. In 2009, they won the United States Championship and appeared on prime time on ESPN. In the summer of 2004, the Little League National Championship team hailed from Thousand Oaks. The Conejo Valley East team of 11 and 12-year-olds went 22-0 in local, regional, and World Series tournaments play claiming the national title at the Little League World Series in Williamsport, Pennsylvania before losing in the international title game to the team from Curaçao, Caribbean.
Conejo Simi Swim Club is the oldest (est. 1974) and most successful youth swim program in the area.
In professional sports, the city is home to the Sherwood Country Club, a world-class golf course designed by Jack Nicklaus. The annual Chevron World Challenge golf tournament hosted by Tiger Woods takes place at the course.
Ventura County Fusion, a minor league soccer team playing in the USL Premier Development League, while based in nearby Ventura, has held home games at Newbury Park High School in Newbury Park.
The Conejo Oaks semi-pro collegiate baseball team play in Thousand Oaks at Sparky Anderson Field.
In the 1970s, California Lutheran University (CLU) served as the training camp location for the Dallas Cowboys. The CLU football practice field used by the Cowboys as well as the CLU Kingsmen football team was replaced by a large sports complex in 2006. The Cowboys Clubhouse in Thousand Oaks still stands across from the complex, and is currently a family residence.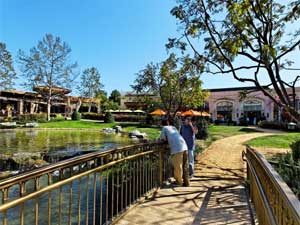 Transportation
Roads
Thousand Oaks lies in the heart of the Conejo Valley, with the city of Los Angeles to the east and the city of Ventura to the west. The city is served by U.S. Route 101 (Ventura Freeway), as well as State Route 23. Highway 101 runs through the city and connects it with Los Angeles and Ventura. CA Route 23 connects to the 101 near downtown Thousand Oaks, runs north toward Moorpark and Simi Valley, and essentially divides the city in two. Thousand Oaks is also served by Thousand Oaks Transit (TOT), which provides public transportation in the form of shuttles and buses. TOT buses provide service to Thousand Oaks as well as some neighboring communities.
Public Transportation
A regional transportation center provides bus and shuttle lines to Los Angeles, Oxnard, Ventura, Moorpark, Simi Valley, and Santa Barbara via the VISTA, Metro, and LADOT Commuter Express bus lines. In addition to being a transfer station from Los Angeles and other nearby cities, it also serves as the primary station for Thousand Oaks Transit buses. There is no rail service in Thousand Oaks.
Air
Commercial air travel is provided primarily by Los Angeles International Airport for regular commuters, while the Bob Hope Airport (in Burbank) offers an alternative for domestic destinations. Thousand Oaks offers public transportation that runs to both airports, via the VISTA, Metro, and LADOT bus lines. Los Angeles International Airport is approximately 40 miles (64 km) southeast of the city, while Burbank Airport is approximately 35 miles (56 km) east of the city. The closest commercial airport is Oxnard Airport located approximately 25 miles (40 km) to the west in nearby Oxnard, California; however this airport provides service only to Los Angeles. General aviation airports include Camarillo Airport, which is approximately 15 miles (24 km) to the west of the city, and Van Nuys Airport, which is 25 miles (40 km) east of the city.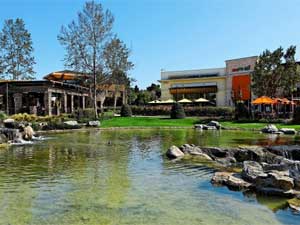 Economic development
Currently, Thousand Oaks is undergoing numerous renovations and development. State Route 23 is in the process of being expanded to a six-lane highway, U.S. Route 101 is being upgraded, The Oaks Shopping Center is being expanded by the Macerich Company, and the city has plans to renovate the old Downtown, near the Civic Arts Plaza on Thousand Oaks Blvd.
New homes are also being built in very few areas of the city. Primary areas of new residential construction are currently in-fill sites within the developed area of the community and not outward expansion.
Points of interest
Dawn's Peak aka Tarantula Hill
Conejo Valley Botanical Garden
Dawn's Peak, locally known as Tarantula Hill, the highest point in the Conejo Valley
Thousand Oaks Civic Arts Center
American Radio Archive
The Oaks Shopping Center
Stagecoach Inn
California Lutheran University
Wildwood Regional Park
Fort Wildwood Park
This article uses information from the Wikipedia page http://en.wikipedia.org/wiki/Thousand_Oaks,_California